While keeping the eyes on the ball you are risking your eyes!
Golf is a game which requires physical, mental as well as visual strength. Having said that, we believe physical and mental skills can be attained with determination but it won't be productive if you are visually distracted. Golf is a visually demanding sport activity as you need to read greens, tackle different light conditions, track ball in flight. Wearing prescription sunglasses while playing golf can help you to enhance your game.
FACT – Not just eye injuries but watching the ball up in the sky on a sunny day can damage your eyes as they get exposed to the harmful UV light.
Traditionally golf is played during day, blinding sunlight while eyeing ball is in air is impossible with naked eyes. Regular sunglasses will cut down the level of contrast which might adversely affect your game. Vision precision plays a crucial role in any sport, especially in golf where you have to keep a close watch on the ball.
No matter if you have low prescription or strong prescription; even a minute vision problem can have negative impact on the golf game. Clarity of vision is essential to read the greens at the same it is also important to protect your eyes from harmful ultra violet rays. By choosing ideal prescription sunglasses you can be relieved with safe and clear eyesight.
What to look for while selecting prescription sunglasses?
Perfect fit:
Since there is a lot of motion taking place in sports activities, it is important to consider the fit of the glasses. Typically, you start golf swing by seeing down, there are chances that your glasses may slip down the face, so make sure you go for glasses with athletic fit. Such glasses come with hydrophilic rubber on nosepiece and earpiece and frames which fit onto your face without sliding down.
---
According to a research playing golf for more than 6 hours per week increases the risk of vision damage.
---
Colour of lenses:
The more the lens is capable to absorb the harmful rays, the more it will help you to read greens clearly and track ball on flight. You can go for brown or amber lens to improve the contrast level or neutral grey or green grey lenses for viewing true natural colours. If you are playing on brightest sunny day, grey colour lenses are favourable. Violet lenses will make the golf ball more clearly visible and help you to track it precisely. It is also soothing for eyes. Yellow lenses are suitable foggy or early mornings.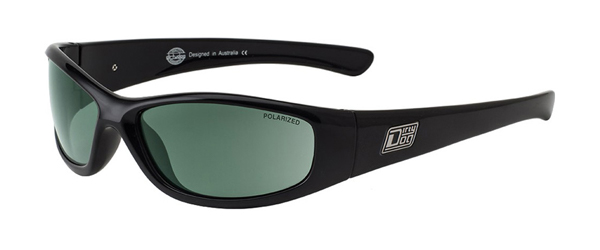 Coating for golf glasses:
For enhanced clarity and uninterrupted vision, golfers are suggested to opt for prescription glasses with anti-reflective coating. It helps to get rid of the irritating reflections and glare that can disturb you while playing golf. Anti-scratch and dirt-repellent coatings will also be beneficial for sports people. Almost every good quality sunglasses come with UV protection, however you need to ensure that the glasses offer maximum UV protection as the game is carried on during bright sunshine.
Even winter sun can be damaging and uncomfortable so golfers need sunglasses all 365 days.
Sunglasses with prescription lenses:
Golfers with single vision problem can easily get high-quality prescription lenses that can be rightly fitted into sunglasses. However players with multiple vision impairment like who suffer from near as well as distant vision might find it difficult to manage with bifocal lenses. Tracking ball or hitting ball can become difficult.
You need to consider dedicated golf lenses for improved vision experience. Photochromic lenses are the best, as it offers clear vision and at the same time adapt to different light conditions.
Pinguecula and Pterygium are two vision conditions that are most commonly caused due to prolonged hours under the sun or exposure to dust or wind.
You need to predominantly consider quality vision to improve your golf game. Sunglasses with professionally fitted lenses and ultimate eye protection is what you need for a perfect golf game.