Age is just a number, especially when it comes to women's fashion. Yes, age has nothing to do with fashion, these days many women have proven that. Older women are an increasing demographic among Instagram influencers. The aura, the sophistication and the elegance of older women are sure to make the youngsters go green with envy.
As you age, there is one accessory that automatically becomes part of your day to day life and that's the eyeglasses. It's a basic essential, yet if you pick the right one, it can make you look like a flattering mature woman. If you are an older woman who loves to stay stylish but doesn't love experimenting much then you can turn your daily essential into a fashionable accessory that will transform and enhance your look, instantly. In fact, eyeglasses can shave off years of your look.
Basic Things to Consider While Choosing Glasses
The purpose of your glasses – Prescription glasses (all day wear), reading glasses (only while performing up-close work) or non-prescription glasses ( just for fashion)
Size – Frame size that suits your face shape and size perfectly
Colour – Frame colour is an important factor to consider as the wrong choice can make you look much older
Material – Frame material too matters, particularly if you will be wearing glasses for longer hours
Face shape – Face-flattering eyeglasses will enhance your look flawlessly, irrespective of your age
Okay, now let's focus on the fashion tips and tricks to pick the right pair of eyeglasses that can reverse your age without much effort:
Rimless – If You don't Want People to Notice
Glasses are often considered a sign of ageing. So, if you don't want to flaunt them, simply stick to the classy rimless glasses. It is comfortable, lightweight and draws minimal attention. The subtle, almost invisible rimless frames, gracefully blend into the face and can go with any outfit. You don't have to struggle with finding the right pair. Choice of lens shapes are endless, however, round and rectangle lenses are the most popular.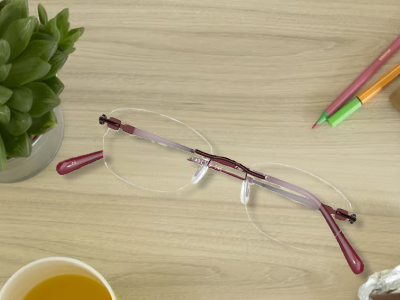 Rimless Glasses
Minimalist style with a quirky twist.
Clear Frames – If You don't Want to Scream About Your Glasses
Yet another pair of glasses that won't look much loud but this one is definitely funky. Clear glasses create a minimal look as the frames are transparent. However, they are available in a variety of colours that gives it a quirky feel. They are both fashionable and functional. Like rimless, even clear glasses blend with any outfit.
They don't make you scream that you are wearing glasses but hardly go unnoticed. If you are looking for more of a feminine option, then choose clear glasses in a cat-eye shape.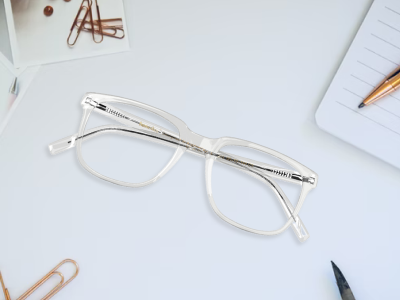 Clear Glasses
Vintage with a modern twist to captivate any fashionista.
Warm Tones – For a Youthful Look
If you want to get noticed and appear much younger then go for playful coloured frames. Bold and funky warm coloured frames like red, burgundy, brown will draw instant attention and make you look cooler for your age. And remember to avoid colour tones like blue, grey or even steel frames as they are colours of ageing.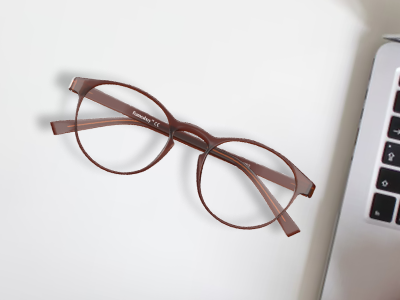 Bold Colored Glasses
Embrace the delightful hint of bold and vibrant colour.
Tortoiseshell – For the Ageless Beauty
Do you know why everybody loves tortoiseshell frames? Because they look flattering on everyone, regardless of their age. The distinctive pattern never goes unnoticed while it becomes a point of attraction on any outfit. So no matter what attire you are wearing, your pair of tortoiseshell frames will grab your attention. It best suits women with blonde, brown, or gold flecks in hair.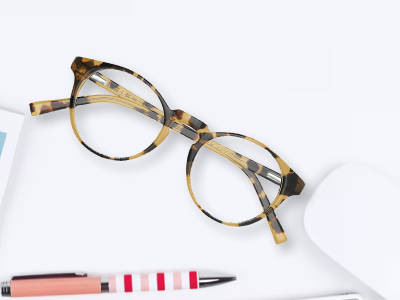 Tortoiseshell Glasses
Dare to be bold and speak with your eyes.
Quick Fashion Tips For the Older Woman With Glasses
Don't over accessorise
Avoid wearing glasses on a chain
Avoid wearing glasses too big or too small
Add a lip colour when you wear glasses
Don't just stick to one pair, embrace a variety of styles
Always trust your gut
Fashion is forever, so steer clear of the old lady look and embrace stunning eyeglasses that can make you appear effortlessly stylish, no matter what's your age.
---