Face shape, hair colour, or size and shape of your facial features ( cheekbone, nose, forehead and eyebrows, and hairline) – all make a significant impact on your overall appearance. That being said, you always need to consider these prominent face features before picking the right style of eyeglasses.
Though everyone looks beautiful in their way and can feel confident with the choices they make. What If you are not convinced by your large and pronounced nose looks? The answer is, that you may be tempted to try hacks that can narrow down or shorten the nose size. With tons of humour on the internet, the smart strategy that works is wearing the right size eyeglasses. Keep reading to know more about glasses for big noses.
Let's experiment with different eyeglass styles:
Aren't happy with how your big nose can affect your appearance and capture all the focus? Reverse the effect with trendy and stylish glasses for big noses that flatters your not-too-small nose. Let's discuss tips for choosing the right frame that makes the nose look smaller.
Frame shapes that flatter the face with a big nose:
Thick-framed, large and denser frame is just the perfect choice that calls complete attention to itself. The heavy frames while hiding the nose partially, bring focus to the ears (other parts) in a most fashionable way.
Whether you choose perfect round or geometrical designs – you cannot go wrong with any of them.
Going angular:
Square, rectangular, or cat-eye, these edgy shapes are ideal to block the attention of onlookers from the nose to other facial features. Moreover, the geometric sharp corner of the frames looks contrasting with the bigger nose and deviates all the attention to its edgy finish rather than a single focal point near the bridge.
Say no to Round ones:
Blending well with the nose, round or circular glasses creates the illusion of a bigger nose. Moreover, its soft edges will make strong lines of the nose look more prominent than other facial features that desire attention.
Lens type – effect of right size and thickness:
Whether you have a small or bigger face, the attention-grabbing large nose is best balanced with a bigger frame design. The thumb rule is larger the frame size the less likely other parts of the face will take effect. The wide and oversized glasses are good at attracting all eyes to themselves.
Trendy, noticeable, and eye-catchy- big oversized or thick frame glasses are the most trending eyewear of the year. Plus they will look great with any face shape and personality.
Attention-grabbing colour tones for frames:
Again, when you want all attention to your eyes from your nose, dark and bold colours frames are ideal choices. An alluring contrasting coloured frame such as black or brown elongates your face shape and makes your nose look smaller. note that solid plastic frames in pop colours do the work better than clear, thin, and wired frames.
Bridge shape for desired nose look:
Eyeglasses with the high nose bridge set will make them sit alongside the nose and hug them well to make it appear bigger.
By lowering down the lenses, they highlight the size and mass of the area prominently. On other hand, lower bridge set frames lift the lenses up, keeping a little gap above the nose. Thus, drawing attention away from the nose and making an impression with cool and stylish frames.
Some best frames choices for a bigger nose:
Blocky square frames:
Want to draw attention away from your nose? Try geometric frames for a more dapper look!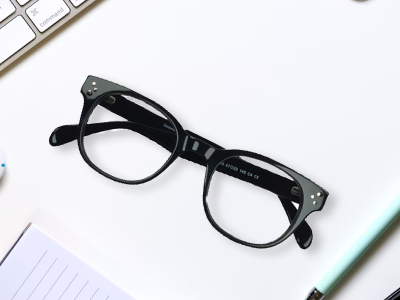 Square Glasses
Timeless frames for a mature and intellectual look.
Retro Cat-eye frames:
Both classic and vintage, pick out the cat-eye frames to bring all attention from the nose to the elegant piece.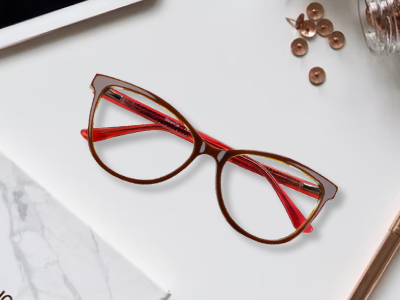 Cat Eye Glasses
Who says glasses can't make a fashion statement?
Classy rectangular frames:
Opt for rectangular-style frames without a doubt. The frame goes well with whatever style you carry.
Rectangle Glasses
Intellectual yet marvellous pairs to behold.
Solid colour frames:
When the goal is to call attention to frames, choose denser frames in a dark colour. One cannot go wrong with classic black or brown frames.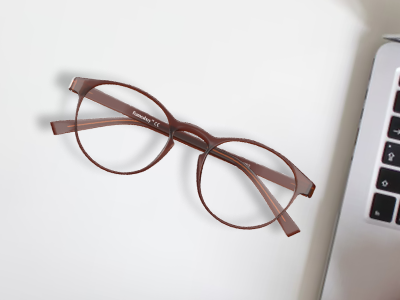 Bold Colored Glasses
Embrace the delightful hint of bold and vibrant colour.
Finding the one that suits the face with the bigger nose:
While you are busy looking for the perfect pair of glasses for a big nose, that makes it look smaller. Make sure to keep the above points in mind for selecting the right pair.
But do not forget to experiment. Same as you do with every other face shape and feature, try frames with different styles, shapes, sizes, colour patterns, and designs before settling on one that suits your overall personality and preferences.
---