Stylish and cool, transparent clear frames are practically a prominent trend in the fashion world. The king of all the frames trending this year, they are neutral and perfect lightweight accessories to go with just about anything in the wardrobe.
The trend is so popular that you can catch your favourite celeb off flaunt the perfect colourless frames for sure. Gigi Hadid, Sarah Hyland and Tom Hanks… all of them are donning these new babies gracefully while maintaining the style quotient.
.
Clear Invisible Frames: What Makes Them So Popular?
Design specialists suggest that clear frame's popularity stems from the fact that it suits basically everybody and anybody. Their invincible aesthetic and fresh vibes will highlight your face and features, add a hint of light to the eyes and cheekbone as well as blend well with any skin tone, hair colour and age category.
Plus, it's a style that flatters both women and men, with an independent and unique personality.
Transparent Frames: Truly On-Trend Glasses for Men and Women
Clear frames carry an adorable vibe, bold enough to be expressive all the time. For a modern take on the striking silhouette, look no further than this frame style. This tone is versatile and easy to blend naturally with different outfits or lifestyles. They're incredibly great to make you look bold to the basics based on your choices.
Both men and women can undoubtedly slay clear eyeglasses. Our men's clear glasses can give you a distinctive and contemporary appeal. The transparency dynamics adds a subtle touch to men's spectacles, while the exquisite curves for females work quite as well.
Styling Tips for Clear Glasses Frames:
Simple, unique and elegant in style- clear frames have a way of looking perfect on anyone and can be worn on any event whether you want to dress sassy, casual, preppy, or classy. Though the tone is versatile, there are actually many things that you need to consider when picking a pair of transparent frames that will accentuate your appearance. After all, not all of the frame styles and shapes will suit everyone.
Here are some styling tips to follow to delightfully pull off clear frames:
Pick right frames style:
Similar to any other style of glasses, a simple rule of picking and styling clear frames begins with finding the frame shape that best complements the face shape. Powered with the right style and tone of frames that compliment your features, skin or hair tone, choose frames that boost your confidence.
If you have angular features, balance them out with rounded or oval frames. On the other hand, if your face shape is round, choose geometric frames with angular edges.
Pair with light-coloured clothing:
Clear glasses are transparent and have a tendency to blend in the colour of the outfits you wear. When you want to highlight the clear stylish pair of glasses, wear the lighter colours clothing that makes the transparent frames stand out and be a centrepiece of your overall look.
Keep makeup to the minimum:
Another thing to consider when styling clear frames are – avoiding heavy makeup. Lighter makeup makes your clear frames stand out, even if they are transparent and invisible to get noticed.
Especially for eye makeup, do keep the eyeshadow and eyeliner tones lighter to keep the focus on glasses rather than eyes.
The right size of glasses:
Large-sized or oversized glasses are among great pairs of clear glasses that can definitely make you stand out. So If you are looking to commit to the pair of clear or transparent glasses frames, choose large size glasses that feel comfortable but do not hide your eyebrows.
Keep in mind the occasion:
As discussed the USP of clear frames is that they go with any outfit and look. However, styling clear glasses also depends on the occasion. From classic to bold and subtle to modern – transparent glasses will ace every job.
One of the top trends of this upcoming season for both men and women, they will make the right style statement with their aesthetic appeal in every setting.
As a school student, you can go for white transparent circular or oval frames that go well with everything you're wearing.
However, as a host of a dinner party at your home, try bright colours and transparent frames to appear more welcoming and open.
Wrap up:
These vintage acetate plastic eyeglasses frame with stylish translucent finishes and subtle hues pair well with every outfit. From transparent frame prescription glasses in distinctive styles to sunglasses in a unique shape, The minimalist aesthetic of the clear frames creates a striking fashion statement in subtle elegance.
Designed for modern-day men and women, Framesbuy offers a plethora of designs to choose from to match face features and lifestyle preferences.
Check out our clear glasses collection now!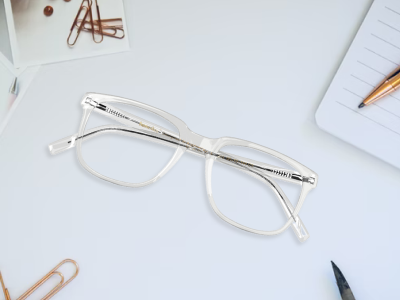 Clear Glasses
Vintage with a modern twist to captivate any fashionista.
---